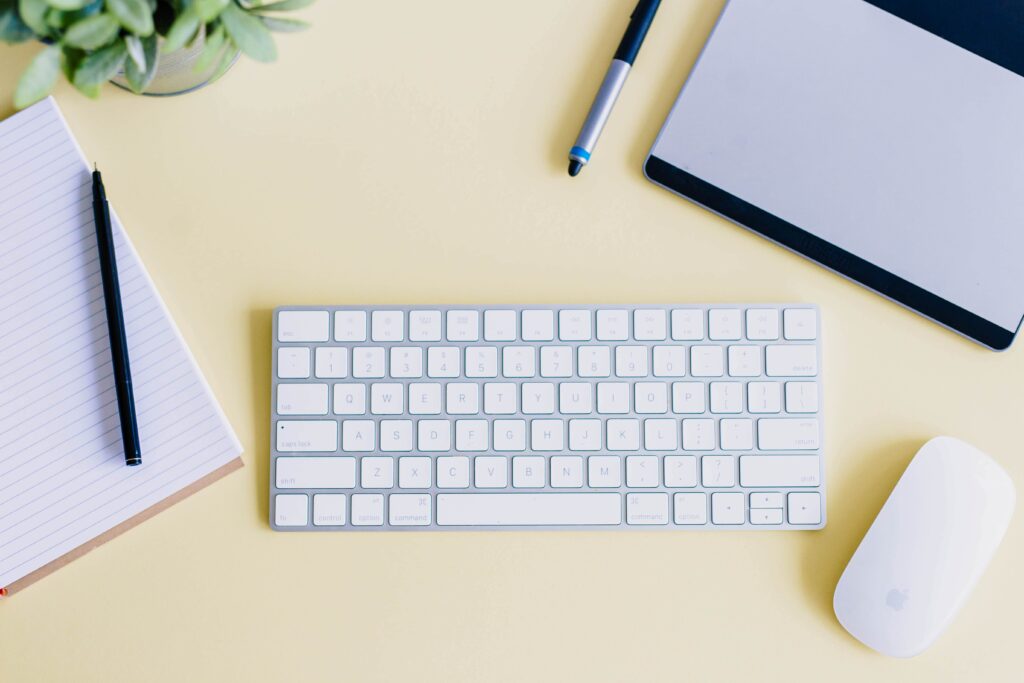 The average office is a pretty germ-filled place, primarily thanks to the number of people coming through the office and touching things like door handles, elevator buttons, and the printer. 
Did you know that the average office desk has 400 times more germs than a toilet seat? Even without germs, dirt and grime can soon build up in the office, as they are usually high traffic areas with people bringing in dirt from outside and dropping food crumbs.
It's important that your office has a regular cleaning schedule to keep on top of dirt and germs, but to keep it really clean, you should also plan an occasional deep clean. 
Additionally, we uncovered some truly shocking office hygiene habits in a national survey, just incase you need further motivation to get a cleaning rota sorted for your workplace!
When should you choose to do an office deep clean compared to a quick clean?
A deep clean should be done at least once a year, although larger companies might find twice a year works better. If your office has a period of closure, such as over Christmas, this is the ideal time for a deep clean, as there's nobody in the office. You can pull everything out and clean in all the hard to reach corners without disturbing staff while they're working. 
A regular clean just maintains the cleanliness of the office, with tasks like hoovering and mopping floors, cleaning bathrooms, tidying up, and cleaning the kitchen.
A deep clean is more in-depth and reaches the deep grime and dirt that has built up in the office. It covers areas that a regular clean might not reach, such as behind kitchen appliances, under the sink, inside and outside of windows, and a full and deep dusting into every corner. Think of the usual office clean as how you might clean every week at home, whereas a deep clean is the major clean you might do at the end of a tenancy in a rented home.
Simply put, proper deep cleaning is important to improve the hygiene of the office. Bacteria can build up on desks, phones, keyboards, and other surfaces around the office, and this puts the health of those who work in the office at risk. I
f people are ill, this is obviously bad for them, but it's bad news for the business as well. Employees on sick leave mean you're paying out sick pay, and the company can lose productivity if you're short-staffed when people are out ill. A deep clean a couple of times a year can drastically improve the hygiene levels in the office, meaning fewer bacteria, and less time off sick. 
A dirty office looks unprofessional and doesn't tell any visitors to that office that you care. Keeping things clean shows pride in your space, and can encourage staff to work harder and visiting clients to trust you and take you seriously. If the office is allowed to get grimy, it suggests that you don't have much care for your personnel, which isn't good for office morale. A deep clean makes it easier to keep on top of regular cleaning and shows your team that you are taking their health seriously. 
Do you need to hire an office cleaning company or can you do the cleaning yourself? 
One of the bonuses of hiring an office cleaning company is that the responsibility of cleaning is removed from your employees. You won't have to ask any of your staff to step in to help clean, taking time from their own list of tasks. By hiring a cleaning company, nobody can feel slighted by being asked to clean the bathrooms. 
A cleaning company comes with expert knowledge. They know the best products to use to get a good finish and to maintain indoor air quality. If your industry has strict hygiene standards, then a cleaning company has a better chance of knowing that and meeting those standards than the average office worker. They also have access to professional standard cleaning products and equipment, so they can do a better job than you would with a duster and a can of polish. 
If you ask your team to help with a deep clean, then this takes time away from their own work, which could hurt productivity. If you book a professional company, they will come in at a predetermined time, usually when the office is closed and can clean without disrupting your team or the work that they are doing. 
Whether you have a cleaning service for your regular cleans or take care of it yourself, it's wise to hire a cleaning company for a deep clean. If you're going to tackle hard to clean places and deeply ingrained dirt, you really need professional equipment and products if you're going to do a good job.
A cleaning service will be able to tackle tough cleaning tasks and leave your office sparkling clean, hygienic, and with better air quality. A properly cleaned office looks more professional, is more pleasant for staff to spend time in, and is a much healthier environment to be in. A clean office is a productive office, and a deep office clean is the best way to keep your workplace safe, smart, and working hard.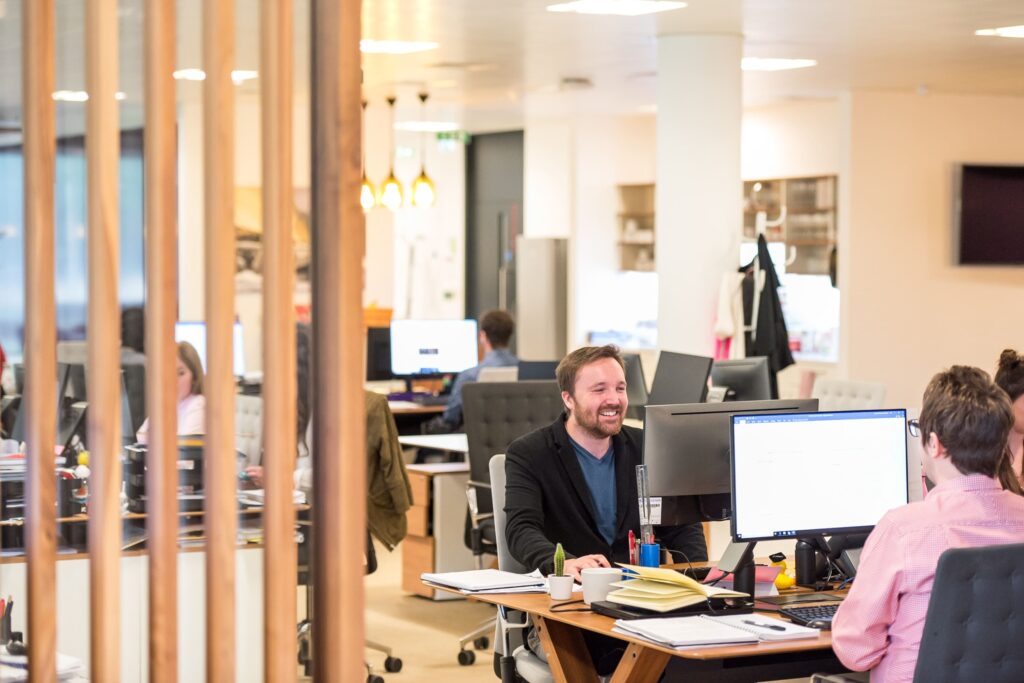 10 Tips For An Office Deep Clean
1. Remove everything for the clean
For a deep clean, it's easier to start with a clean slate. Clear all the desks, drawers, and shelving. Move any furniture out and away from the walls so you can clean behind it. With everything clear, it's easier to reach into awkward corners and clean all the surfaces properly. You can also wipe over everything like computer equipment before you return it to where it belongs, so everything is clean. Removing everything is also a good excuse to declutter at the same time.
Encourage your team to clear their own desks and sort through everything they have in there. Have they got old paperwork they don't need anymore, or old, out-of-date snacks lurking in their desk drawers? By removing everything, they can look through everything and decide what they need to keep and what can be thrown out. They can also put everything away again when the clean is over in a much tidier and more organised way.
By pulling out all the furniture and kitchen appliances, your cleaning service can get behind them and reach the kind of dirt that can build up in those usually hidden areas. During a regular clean, these areas get neglected, so grime can build up easily.
This is especially true in the kitchen, where food is easily dropped behind the microwave or knocked behind the fridge, never to be seen again. By moving these appliances out, you can find this forgotten dirt and get rid of it, making the kitchen a much more hygienic place to be.
Cleaning hard to reach areas like this improve the air quality and the hygiene standards of the office, as there's no mystery dirt or mouldering old food releasing bacteria and unpleasant smells into the workspace. It's also much easier to clean without anything in the way.
2.
Consider rearranging the space
If the office tends to get cluttered and untidy again quickly after you've had a deep clean, it can be well worth using the deep clean as an excuse to experiment with a different kind of layout for the space.
If you're moving all the furniture around anyway to allow you to clean behind it, you don't have to put it all back in the same place that it was in before. How could you rearrange things to make the layout more practical, functional, and easy to work in? Is there a way you could change things around to offer more storage space or improved access to storage for staff? If people can reach drawers and shelves from their desks or have more storage space of their own at their desks, they're more likely to use it.
This stops piles of paperwork and other clutter from gathering on the desks and making the office look untidy. Give staff the tools to properly organise their own desks when they return to work after the deep clean. Binders, folders, racks, and dividers can make it much easier to properly separate all the inevitable paperwork that gathers on desks. Your team will be able to put things away in a tidy manner, but also be able to keep everything well organised and easy to find.
You'll reduce clutter while also making it easier to lay your hands on the work you need when you need it. Drawer dividers in desk drawers, binders for shelves, and trays for the desk can make it a lot easier to sort things, so you can easily get at what you need daily access to, store the things you don't need every day but need to save and keep the office looking tidy.
3.
After the deep clean, stay on top of a cleaning routine
A deep clean is not enough on its own to make your office clean and hygienic. A deep clean can restore a grubby office to a clean state, but once you've got it that way, it's important to keep it that way.
Encourage your staff to take a certain amount of responsibility for keeping the office clean. This doesn't mean they need to do a shift as the cleaning staff, but they can help to keep things looking good.
Make sure they are cleaning supplies kept available where staff can access them, so they can deal with things like spills in the kitchen themselves instead of leaving them for the cleaning staff to handle later. Encourage a clean desk policy. At the end of the day, suggest that staff should spend a few minutes resetting their desks ready for the next day.
If everything gets put away, then clutter doesn't build up. Add some anti-bacterial wipes to the cleaning supplies that staff can use so they can wipe down their own desks, phones, and keyboards each day to stop germs from building up. If piles of dirty mugs and plates in the kitchen are becoming a problem, consider putting in a dishwasher.
For some reason, nobody wants to wash up at the office, but they will put things in a dishwasher. By providing one, you can make sure there are clean cups for the next day, and no used plates growing mould in the sink. Just remember to switch the dishwasher on before you leave for the night. By encouraging staff to take responsibility for small bits of cleaning like this, your cleaning service can focus on proper cleaning, keeping the office much cleaner all year round.
4.
Clean computer equipment properly
Keyboards are one of the dirtiest places in an office. They're touched a lot, so germs can build up easily. If staff eat at their desks, they also quickly get full of crumbs and other debris, so they should be included in your deep clean. If the keyboard is separate, unplug it. If you use a laptop, make sure the laptop is turned off before you start cleaning the keyboard.
Start by giving the keyboard a good shake over the bin to start shifting some of the debris caught under the keys. Next, use a can of compressed air to force the remaining crumbs, dust, and food particles out from behind the keys. If you don't have any canned air available, you can use a sticky note instead! Simply fold a sticky note in half, with the sticky side facing outwards. Run this through the gaps in the keyboard, where dust and debris will stick to the sticky part and be lifted out.
To kill germs, dip a cotton bud in alcohol, and swipe it between the keys. Finally, spray disinfectant onto a cloth and wipe over the top of the keyboard. It's important to clean computer monitors too. A smudge-free screen is better for the eyes, and clearing the dust from the monitor's ventilation slots is important for helping it to keep cool. Disconnect the monitor, or turn off the laptop before you start.
Wipe the screen with a damp microfiber cloth to shift dust, smudges, and fingerprints. Shift the dust from the ventilation vents by gently going over them with a vacuum with an upholstery brush fitting. Clean the glass with glass cleaner, then go over any cracks and crevices with a can of compressed air to get rid of dust.
5. Clean the office chairs
Office chairs support your staff on the job, so they should be kept clean. They'll be nicer to sit on and look better too. Check the chairs for an upholstery tag, which should have cleaning instructions to help you. Fit an upholstery brush onto your vacuum and hoover the chair to remove any loose dust and crumbs. Wipe down the hard parts of the chair, like the arms, with an all-purpose cleaning spray on a microfiber cloth. If the fabric on the chair is water-safe, add a few drops of dish soap to a spray bottle and use this to spot-clean the fabric.
This can also be used on mesh and plastic chairs to clean them. If the fabric isn't water-safe, fill a spray bottle with rubbing alcohol and a few drops of essential oils. Use this blend to disinfect the upholstery and remove any stubborn spots and stains. If you have leather office chairs, mix some dish soap into half a gallon of warm water.
With a cloth, use this mix to wipe down the leather to clean it. When going this, go slowly and gently, and always be careful not saturate the leather as this can ruin it. When you've finished cleaning it, apply a leather conditioner to keep the fabric supple and in good condition. Make sure any moving parts on the chair are lubricated by adding a dab of lithium grease or a spray lubricant. Silicone spray can work very well to keep chairs moving well.
This stops chairs from becoming stiff, creaky, or difficult to adjust. Clean office chairs improve the hygiene standards in your office, as well as helping the office to look much smarter. It also stops mess from accidental drinks or food spills from creating bad smells in the upholstery.
6. Focus on the places that get touched the most but are often overlooked.
When you're cleaning the office, you probably give the kitchen and bathroom a thorough clean, mop the floors, vacuum, and wipe down the desks. This is a great start, but a lot of the germs that live in offices live on surfaces that tend to be forgotten during a basic clean. A deep clean should target all these areas to kill germs and reduce the risk of people being made ill.
When you're cleaning work stations, don't just wipe down the desks. Make sure to clean and sanitise things like phones, headsets, and computer equipment. This makes sure the things that people work with every day are kept clean.
Make sure you clean and disinfect door handles and doorknobs too. Everyone who comes into the office has to touch these, so they can become a breeding ground for bacteria. Everybody brings in germs from home, from public transport, and from outside, and if they're ill, they add that too. The same goes for the buttons in the elevator.
Think about other items in the office that are touched by lots of people every day. This could include things like the printer, fax machines, the water cooler, the coffee machine, and the fridge door. Make sure all these places are wiped down, cleaned, and sanitised. You can kill germs at the same time as cleaning away smudges, fingerprints, and other grime. Colds and other illnesses won't spread as fast through the office if you keep these hotspots for germ gathering properly clean.
This makes your office a much more hygienic place, cutting down on the need for sick leave. This will save you on paying out sick pay and improves attendance and productivity in the office in the long run too!
7. Tackle the kitchen
The average office kitchen gets used a lot. People are in and out all day making drinks, and the office fridge is usually loaded with lunches and leftovers. The fridge in average offices can get pretty gross. It's amazing how long leftovers can be left to languish in the office fridge, allowing mold to grow and bacteria to gather.
When you're planning a deep clean, warn staff and let them know that anything at all left in the fridge will be thrown away, including food and any Tupperware. Empty the fridge and throw away anything that has been left behind, even if it still looks fresh. Clean the inside of the fridge thoroughly and make sure you disinfect it, especially if you found a lot of out-of-date food.
You can even vacuum the vents at the bottom of the fridge and coils at the back to get rid of dust. Empty the kitchen cabinets, and remember to clean inside and on top of them, as well as wiping down the fronts. Throw away any old food, like boxes of cereal, that have been left in there. Wipe down all the surfaces, including counter-tops and appliances. Give the sink a good scrub too.
If you have appliances in your kitchen, like microwaves, coffee machines, dishwashers, or water coolers, move them out of the way so you can properly clean the floor or surfaces underneath where they normally sit. Give the appliances themselves a good clean too, as lots of hands touch these throughout the average workday.
Use a disinfectant on things like coffee machine buttons and cabinet door handles to clean away any lingering germs and other nasties. As you put things away, like communal mugs and cutlery, make sure it's all clean before it goes back in the cupboard.
8. Manage office trash
Offices generate a lot of trash, from old paperwork that can be thrown away to wrappers from snacks people have enjoyed at their desks. Properly handling this waste helps to keep the office cleaner and more hygienic. Put bins around the office in high-traffic areas, so people can drop their litter in easily while on their way to the kitchen or when heading out at the end of the day.
Split your bins into general waste and recycling, and make sure each bin is clearly labeled so it's obvious what should go where. If your area has a separate collection for food waste, make sure to have a separate bin for food available in the kitchen. To handle waste around desks, you could offer individual bins, but this does mean people aren't likely to bother to get up to take food or recycling to the correct bin, meaning the cleaners have the unpleasant task of sorting desk bins at the end of the day.
Make sure your bins are solid and good quality so they can properly contain litter without any unpleasant leaks. When the bins are emptied at the end of the day or week, make sure they are wiped out and disinfected.
This keeps them clean and safe, as well as reducing the likelihood of unpleasant bin smells. Staff with desks near the bins will appreciate this! An easy way to manage waste it to reduce it altogether. Reward staff for recycling, and think hard about the amount of waste your office produces. Cut back on how much you print, how much packaging you use, and cut out single-use items.
For example, don't buy plastic cups for the water cooler, and instead, keep a set of glasses in the kitchen. With less waste produced, you have less to manage.
9. Bring in plants
One of the big reasons a deep clean is a good idea is to improve the air quality in the office. Air quality in offices can be a lot worse than you might think, thanks to stale air being pushed around by the air-conditioning or heating systems. Other common toxic culprits found in a lot of offices can include mould, formaldehyde, dust mites, carbon monoxide, and chemical cleaning agents.
Poor air quality can mean your team will find it harder to concentrate thanks to lack of clean air and they may suffer from headaches, breathing issues, and other health problems. As well as a good clean on a regular basis, an easy way to improve the air quality in an office is to bring in plenty of plants.
Green plants produce oxygen, clean the air of health-damaging toxins, and release humidity back into the atmosphere. This improves the quality of the air around you. These air-cleaning properties are especially useful in air-conditioned offices. Plants also look nice and help an office look much more cheerful and welcoming.
People are cheered by the sight of something living, whether they have a small succulent on their desk or large pot plants in the conference room. A few plants around the office can go a long way to improve both concentration and morale. As part of your deep cleaning plan, remember the plants too.
Move them out of the way so you can clean underneath them. You can give the pots a bit of a clean, and then gently wipe over the plant's leaves with a damp cloth to remove any dust that has gathered. Plants around the office can reduce stress too, all while they're busy cleaning the air for you and improving air quality.
10. Hire a professional cleaning service
If you have a small office, you might be able to manage the day-to-day cleaning yourself or with a cleaning rota. When you have a deep clean once or twice a year however, you should bring in the professionals. A professional cleaning company will the products, tools, equipment, and knowledge to properly deep clean. They won't forget to clean behind the fridge, or not disinfect the office bathrooms properly, or accidentally clean a chair that isn't water-safe with water.
Hire a professional for a time when the office would usually be closed, such as over the weekend, so they can clean properly without disrupting any work and won't have any of your staff in the way when they're trying to move furniture around. Professional level cleaning products will do a better job, but they can also be dangerous if you don't know what you're doing.
You could buy professional cleaning chemicals yourself, but if you aren't sure how to do them, you run the risk of over-doing it, which won't do you any good if you're breathing the fumes in, and might end up causing damage to your surfaces, floors, or upholstery. A professional knows exactly how much to use, how to do so safely, and will have the proper safety equipment, such as gloves, goggles, and masks to allow them to deep clean using chemicals that would otherwise be dangerous.
They will also know how to clean these chemicals away, so the office is safe for you and your employees to return, without breathing in toxic fumes. Professional cleaning services also have the advantage of speed. They're well-practiced, so they will get the work done much faster than you could. This means your office is ready for you to get back in it and back to work quickly.
If you'd like to learn more about how a deep office clean can protect your workplace from germs and viruses (and generally become a healthier environment for all members of staff), get in touch with our expert cleaning team today on 0161 282 6444.