Call Today: 0161 282 6444
117 - 119a Stockport Road, Stockport, SK3 0JE
Office Hours
Monday - Friday: 08.00 -18.00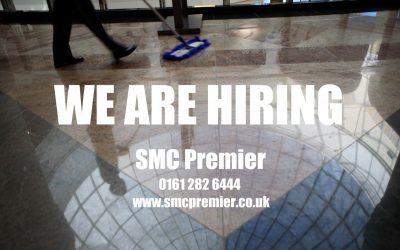 We are looking to recruit a School Caretaker for the Chorlton M21 area Hours are Monday to Friday – 35 hrs per week, Split shift- timings as follows: .Morning Opening Hours 7.00am – 9.30am Mon – Thursday 7.15am – 9.30am Friday Evening Opening Hours 3.15pm – 7.45pm...
read more
Join SMC Premier…
You are SMC Premier Cleaning's biggest Asset
Why work for SMC?
SMC Premier are one of the leading independent Commercial Cleaning companies in the North West of England, SMC Premier offer excellent Rates of pay more often than not above the National Living Wage, Management Support, Excellent video training facility, the newest machinery and products to use and above you are and will be our biggest asset and a part of the SMC Premier Family ethos.
What we are looking for?
SMC Premier prides itself on it's Cleaning staff, without which SMC Premier Cleaning would not be able to provide bespoke Cleaning services to a plethora of industries. SMC Premier is looking for reliable, diligent, intuitive and hard working Cleaning support staff.
How do I apply to join SMC Premier Cleaning?
If you are interested in discussing the possibility of joining SMC Premier Cleaning, please contact us directly on 0161 282 6444 or peruse through our Cleaning jobs updated constantly on our website.
What our clients say about us
Many thanks for the team that you sent into school this weekend. Steven and Lee were great. Four out of seven of the classroom floors have been done and look amazing and all furniture has been put back.
Really pleased with what they have done, their professionalism, knowledge and work ethic. Thank you for sorting this – I am pleased and I am sure that teachers will be in the morning too!
J. Jones
Previously used SMC Premier Cleaning Ltd and found the staff to be very pleasant and take good instructions. Did a great job with the cleaning and available to do additional jobs as and when required. Would definitely use again and recommend as a contract cleaner.
Suzanne Jameson
SMC Premier Cleaning provides its services to a wide range of market sectors such as School Cleaning, Clinical Cleaning Services, Food & Drink Cleaning Services, Retail Cleaning Services, Financial Sector Cleaning Services, Engineering Cleaning Services, Production Machine Cleaning, Manufacture Cleaning Services, Distribution Cleaning Services, Clinical Cleaning Services and Facilities Management Companies.
Please fill out all of the above fields. All submissions will be responded to within 24 hours.